How Marc Anthony's Kids Inspire Him to Change Orphans' Lives
Source: People Magazine
February 18, 2015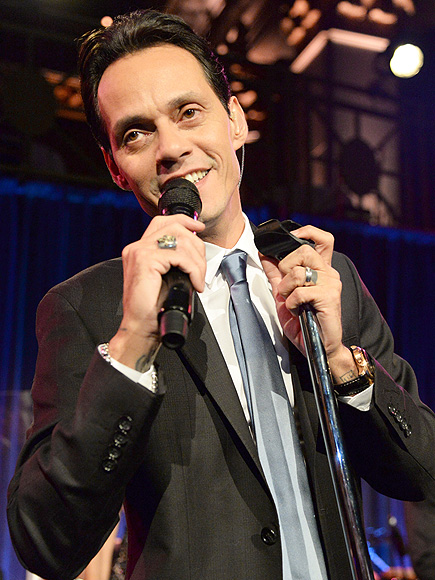 Marc Anthony (Kevin Mazur/Getty)
For Marc Anthony, helping children in desperate need is more than a duty - it's personal.
Speaking Tuesday at his Maestro Cares Foundation's second annual "Changing Lives, Building Dreams" Gala at Cipriani Wall Street in New York City, Anthony became emotional while discussing the orphanage he helped build in the Dominican Republic.
"This is very personal," he told PEOPLE. "My kids -" he said, choking up and asking for "one moment" - "my kids in the Ninos de Cristo orphanage, they're gonna eat, they're safe, they have their own beds, they have their own space. It comes down to dignity at the end of the day. I always say these children's beautiful, beautiful souls were dealt a rough set of cards, and at the very least, a bed, food, education...really?."
While he calls the nearly 50 children living in the orphanage "my kids," he also has four of his own: sons Ryan, 11, and Christian, 14, with ex-wife Dayanara Torres and twins Max and Emme, who turn 7 on Sunday, with Jennifer Lopez (their divorce was finalized last year). Anthony says he makes sure all four understand how lucky they are.
Keep up with your favorite celebs in the pages of PEOPLE Magazine by subscribing now.
"I am on this mission to do what I'd do for my own children," he says, adding he "absolutely" makes sure they know they're privileged. "I've taken my own children to the orphanage. We spent a weekend with the kids, and they came up with ways to make their existence better."
"My two older boys, Christian and Ryan, came up with a whole curriculum, like: 'Based on behavior, I think we should have a movie night.' And they definitely see what I'm doing. That's just one of those pluses – you don't count on it, but they do see the example you set."
Anthony's own humble beginnings in east Harlem makes his pursuit hit home even more.
"I benefitted from a lot of inner city programs, whether the boys club, Johnny Colon's music school, JROTC, all those after-school programs. I'm a product of these. I know how effective they can be," he said.
He also lit up with excitement about his twins' upcoming birthday. "We have HUGE plans for them," he said, grinning, "and they're really excited about them."
The newlywed, who married model Shannon de Lima in front of close friends and family at his home in La Romana, Dominican Republic, in November, arrived with his wife, who dressed in a sexy backless dress. The two posed playfully for photos on the red carpet before the event began.
Then, it was the guests' turn to choke up when Anthony took the stage and relayed the story of how he first realized how dire the lives of so many kids are. After visiting a three-bedroom home where dozens of children were sleeping on the floor, he said his reaction was simply, "We have to do something" - and the new orphanage was born.
In total, the night raised more than $1 million. Guests dined on fresh burrata and Wagyu beef while Luis Ortiz, star of Bravo's Million Dollar Listing, hosted the show. Three people were honored for their work enhancing the lives of children: Chi Chi Rodriguez, World Golf Hall of Fame inductee and co-founder of The Chi Chi Rodriguez Foundation; Meera T. Ghandi, CEO and founder of The Giving Back Foundation; and Marcelo Claure, CEO of Sprint Corporation.
Anthony and good friend Henry Cardenas started the non-profit organization with the aim to help disadvantaged children in Latin America. He closed out the night with a much-anticipated performance of "Vivir Mi Vida," "I Need to Know" and a special rendition of "Hotel California."